We are trying to make a new Important Bird Area around Tucson and need your help! The Sky Islands around Tucson and the excellent Sonoran Desert the connect them are excellent habitats for our native birds. The Arizona IBA Program is working to get this area recognized as an Important Bird Area and we need your help gathering data.
How this works is simple! Starting April 22 (Earth Day) and ending May 31 we need birders to visit these areas of interest and enter what they see into eBird.org and then share their list with the username ArizonaIBA (no space!). Your observations will then be used as direct data for the IBA nomination. All birders who share a list with us will be recognized for their efforts and entered into a drawing for a prize!
***It is also extremely helpful to share any existing eBird lists you may have in your account from the past in these areas with the ArizonaIBA username.***
Many birders already do utilize the amazing and free services of www.ebird.org but for those who don't, I personally recommend that you check it out. The way it tracks your life list on every level you can think of (year, month, county, state, etc.) and lets you see what everyone else has reported is amazing. And best of all, it's free!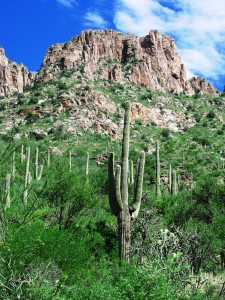 For a list of areas and species that we especially need covered, please see below:
Oracle State Park – This beautiful state park is a favorite of many birders and we especially need information on: Lucy's Warbler, Rufous-crowned Sparrow, Loggerhead Shrike and
The Catalinas – with an emphasis on areas that are not Catalina State Park (though we would love information from this area as well!) and the key species we especially need information on are: Bell's Vireo, Lucy's Warbler, Rufous-winged Sparrow, Rufous-crowned Sparrow, Costas and Broad-billed Hummingbird, Gilded Flicker and Elf Owl.  For the higher elevations: Red-faced Warbler, Olive Warbler, Grace's Warbler, Black-throated Gray Warbler, Buff-breasted Flycatcher, Greater Peewee, Whiskered Screech-owl, Mexican Whip-poor-will and Spotted Owl.
The Rincon Mountains – bird data is especially thin on the ground here as access can be difficult. This is an area that we especially need help with in gathering data. Species to really watch out for include: Olive Warbler, Red-faced Warbler, Grace's Warbler, all Hummingbirds, Mexican Spotted Owl,
Saguaro National Park (East and West) – This beautiful Sonoran Desert habitat that connects Tucson's Sky Islands is important for several key species: Gilded Flicker, Elf Owl, Costa's Hummingbird, Loggerhead Shrike, Rufous-winged Sparrow, Rufous-crowned Sparrow and the desert nesting Purple Martin.
Making eBird even more effective for this effort
When you submit a list of what birds you have seen into eBird.org, it asks you a few questions. How you answer these questions has a huge effect on the usefulness of the data. The two key ones are: 1) How long did you bird for the list you are submitting and 2) How far did you travel (in miles). If you accurately answer these questions your observations will make very robust data.
Split up those lists!
This used to seem like such a chore to me, but now I actually find it much easier to manage my bird observations if I create a new eBird list at each location I stop to bird. For example, if you spend a morning birding on Mt. Lemmon it is better to create several lists for all the places you get out and bird (a list for Incinerator Ridge and another for Bear Wallow etc.) rather than one list for the whole morning on the mountain. On the other hand, if you spend all morning hiking one trail, then one eBird list is probably best. There is an app available for both iPhone and Droid that makes this much easier to do in the field, BirdLog by BirdsEye. This is a great investment! I use mine all the time on my iPod Touch and it makes it so much easier to use eBird.
Putting Numbers with Names
Most birders are excellent at recording all the species they encounter in an area and it is especially great when they are careful to make sure that the common species are captured as well as the rare. What makes your eBird data especially useful to science is when you attach numbers to the species. It is possible to mark an "X" on a species, indicating that it was present. I strongly discourage this practice! Even your wildest guess at how many Bridled Titmice there were on your two mile hike on Mt. Lemmon is infinitely more useful than an "X" which could mean anything from 1 to 1 million. Go with your experience and instincts and give your best estimate.