IBA MINI CONSERVATION PLANS FOR LAND MANAGERS and OWNERS
Our goal is to provide an easy-to-use resource that will help you consider birds when making land management decisions within Audubon Important Bird Areas in Arizona. We designed these Mini Conservation Plans for agency biologists, land managers, and others who deal with everyday decisions that affect birds and their habitats, but who may or may not be bird experts. Each plan summarizes key bird conservation details as well as conservation challenges. The plans include both priority species for conservation, as well as birds that are good indicators of habitat health.
2022 Summer IBA Survey Season
2022 Elegant Trogon Survey Dates
Saturday May 14 – Atascosas (near Nogales)
Saturday May 21 – Patagonias (near Patagonia)
Sunday May 22 – Santa Ritas (near Green Valley)
Saturday May 28 – Huachucas (near Sierra Vista)
Sunday May 29 – Chiricahuas (near Portal)
Sign up for an Elegant Trogon volunteer survey at this link
There is an abundance of evidence, both anecdotal and scientific, that the ecological influence of tropical Mexico has grown over the last century in Southeastern Arizona. Mammals such as Javalina and White-nosed Coati have both extended their range out the tropics into southern Arizona as part of this larger ecological system expansion. The expansion continues even today with the birding community noting the recent increase in prevalence of Gray Hawks, and rarities in general, including the recent first ever US nesting record of Tufted Flycatcher this past spring. Elegant Trogons are also part of this story with their United States range expanding over the last century which can be tracked with mainly anecdotal evidence and isolated incidents of collecting.
To further our understanding of how many Elegant Trogons there are in the US, organized surveys have been ongoing in the Chiricahuas and Huachucas led by Rick Taylor for many years, and beginning in 2013 Jennie MacFarland and Tucson Audubon assisted Rick and helped expand the surveys to three more ranges. The new areas we surveyed the last four years are the Atascosa Highlands, Santa Rita Mountains and Patagonia Mountains. Learn more about this survey effort here. 
Desert Purple Martins
Have you ever seen a Purple Martin in Southeast Arizona? These charismatic, large swallows are a beloved and iconic nestbox species in the eastern half of the United States but if you know where to look they can be found here as well. The Desert Purple Martin is a distinct subspecies that timing their nesting to monsoon abundance and nests almost exclusively in saguaros or other large columnar cacti. They are "wild" martins that use naturally occurring cavities while the eastern subspecies is said to be entirely reliant on human-made nestboxes. The Desert Purple Martins are extremely understudied with large gaps in knowledge about their nesting, migration and wintering grounds. This summer Tucson Audubon is launching a study on these fascinating birds and we could use your help.
This video shows the results of the 2020 study and our goals for the 2021 surveys.
Arizona Birding Trail
Multiple agencies and NGOs are collaborating to create an Arizona Birding Trail! You can help by nominating sites for the upcoming website featuring the best places for visitors to go birding in Arizona. Fill out our easy online birding site nomination form here! 

A story map is an interactive website that helps you explore all 48 of Arizona's Important Bird Areas!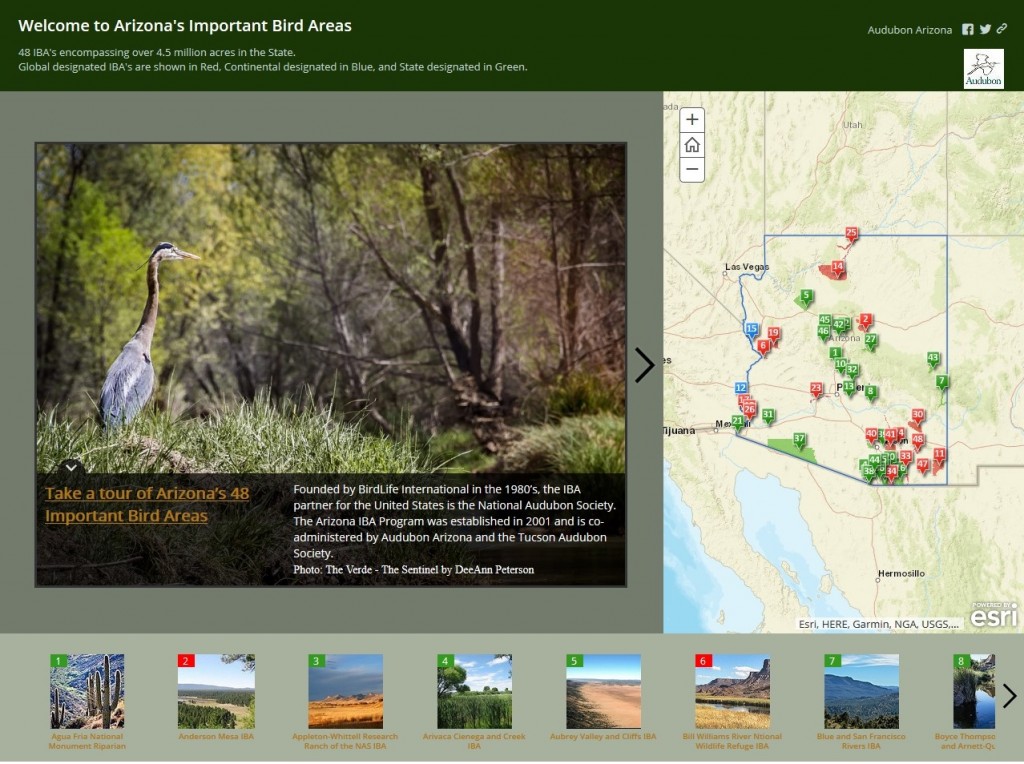 Elegant Trogon Survey Results of SE Arizona
Southeast Arizona is lucky enough to have nesting Elegant Trogons every spring and summer. But how many are there? You can see the results of this year's massive survey effort of 5 different sky island mountain ranges in May and June. See the results on the Elegant Trogon Survey Page

Bringing Birds Home – Landowner Habitat Improvement Guides
Both Grasslands and Riparian Habitat Guides now available for download
The Arizona Important Bird Areas Program along with its partners, Arizona Game and Fish, Tucson Audubon, Audubon Arizona present two Habitat Management Guides. Below are links to PDFs for both the Grasslands guide and the Riparian Guide. There is a third and final guide coming in the near future focusing on Desert habitat. These guides would not have been possible without the support of the following partners: Sonoran Joint Venture, Arizona Antelope Foundation, National Fish and Wildlife Foundation, SRP, and National Audubon Society's Western Water Initiative. Visit this page for more information and to download the guides.
–>