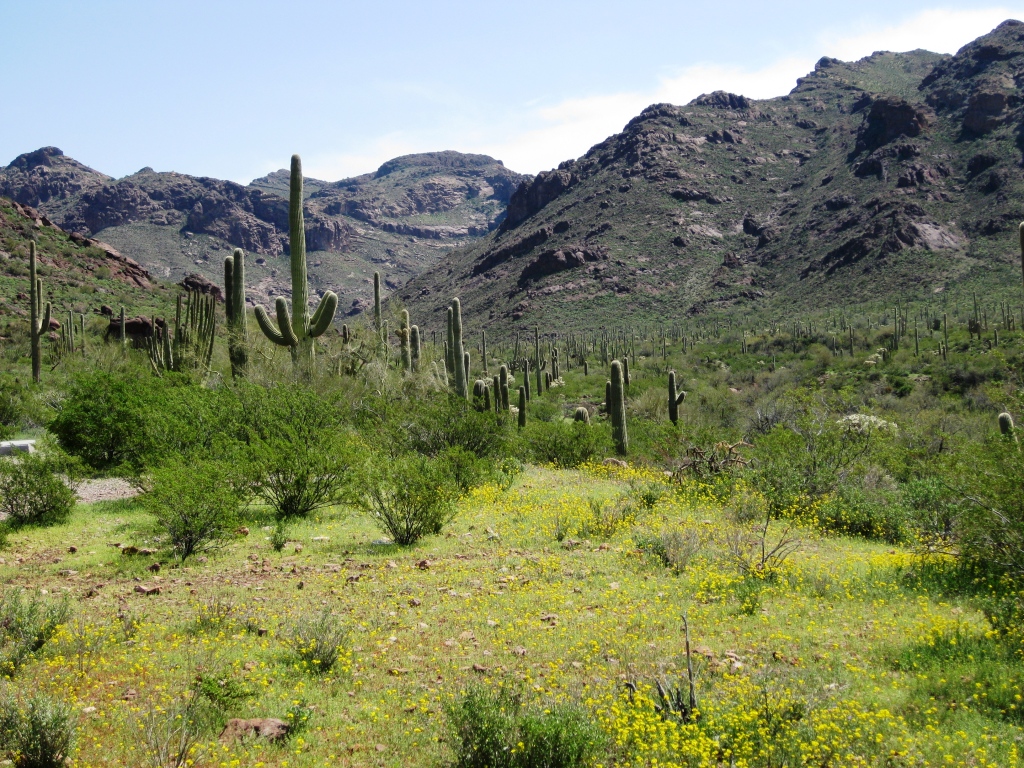 Trip report by Craig Anderson for his Arizona IBA Big Year.
Spectacular vistas, sunsets, the Streakbacked Oriole, and thousands of swirling tree swallows made this tour memorable. I now have traveled over 1,300 miles to visit seven Arizona Important Bird Areas and they have exceeded my expectations. I'm in awe of Arizona's varied habitats and unique wildlife.
This trip began for my sister, Terri Ratley, and I in Organ Pipe National Monument just 76 miles south of Gila Bend. After living in Arizona for 46 years, this was my first visit to the monument. A nominal fee of $15/night was made even more economical with a senior pass. Venues exist for RVs, car camping and tents as well as for those interested in the solitude of remote camping. The main camp ground has 208 sites with restrooms, showers, water, visitor center and park ranger led programs. As usual, campers were friendly and interesting. Birders love to share birding stories … especially with a glass of wine around a campfire. Where and how to find the Ferruginous Pygmy-owl was the hot topic on this trip. Elf, Screech and Great Horned were easily observed.
A moderate round-trip hike of about two miles takes you into Alamo Canyon where a Peregrine Falcon hung on the updraft above a lava dome. At trail's end were the remains of an old windmill and corral, symbols of the cattle ranching that once existed throughout Organ Pipe. On day two, we took the Ajo Mountain loop and hiked the Arches Canyon trail. Once again, a moderate hike into spectacular volcanic spires that twisted and surged into the sky. It is obvious that many birds and critters use the small oasis nearby.
Vistas are not the only things that greet the visitor to this magical landscape. Many desert species such as Curve-billed thrashers, Cardinals, Phainopepla, Cactus Wrens, Gnat Catchers, Abert's and Canyon Towhee's, Cooper's and Red-tailed Hawks were abundant. Scat and foot prints along the trail also give testimony to many creatures that use the trail during the night. Arches is another canyon ripe for the diminutive Ferruginous Pygmy owl.
"Quito ba Quito" was by far the best birding site and one we almost passed up. We were reluctant because of the proximity to the border (about 100 yards) and the 13.8 miles of rutted dirt road. Hold on to your teeth fillings! There we found a small pond and a shallow winding stream about 200 yards long. Bedrock appears to force the water being slowly released from the nearby volcanic mountains to the surface. In short order, the Cottonwood and Mesquite trees yielded 15 species of warblers, sparrows, woodpeckers, doves and a calling Pacific Slope Flycatcher. This one-of-kind desert oasis added nine species to our count total.
Mittery National Wildlife Refuge IBA to the South was a surprise. Remote, "No Fee" camping under tall Cottonwoods and a light free night sky made our spirits soar. Because of our minimalist camping style, we had camp setup in less than one hour and birded the area until dark. The lake is a large marsh with some open water – next time, I'm taking my kayak to explore the winding waterways. Mittery yielded 38 species, 16 of which were new for our count.
On the lake by our campsite, we found the immature Common Loon that a park ranger told us about. This may have been the same Loon I saw a month earlier at Cibola NWR on the Colorado River to the north. An American Bittern was one of our best birds. Repeated attempts at rails only gave us the Yuma Clapper.
Nothing can compare to our last night sitting in camp chairs next to the lake. About 15 minutes before sunset, thousands of Tree Swallows came into the area. They swirled and twittered all around us, diving and just ever so slightly touching the water for insects. Often no more than a foot from us, we could feel and hear the whoosh of their wings. I have never been in the middle of such a dazzling spectacle. About ten minutes later, as we began to witness the most awesome sunset, they disappeared. Almost immediately, all was quiet again. As the gray dusk creeped in, 4 White Pelicans quietly glided onto the lake in front of us to fish.
Our next stop on the Lower Colorado, would take us to the East Wetlands in Yuma. Our target bird was the much sought after Streak-backed Oriole. We also continued our quest for the Black Rail. Do we seem a little greedy? The answer is "No", birders are just a hopeful lot. After two visits, we logged 34 species, 7 of which were new. The Black and White and the Black-throated Gray Warblers were special treats during our first visit. The following morning, we were at the wetlands by sun up. We patiently and slowly walked among the very large Cottonwoods, Mesquites and Willows adding a robust Plumbeous Vireo to our list. No Streaked-backed, however!
Birder question: "When is a Coot not just a Coot"? As birder's, we are often guilty of saying, "Oh, it's just a Coot?" or another "White-Crowned Sparrow" and sometimes miss seeing something very precious. We had one of those moments when scanning the river. We saw a Coot. But this just wasn't another Coot. It was a Coot carrying a fluffy chick tucked under its wing. Ahh … now, that was heart-warming and precious!
As we walked back to the car, our conversation concluded that the Oriole had left the area since there were no recent sightings. On the path by the "Scenic Overlook", my sister exclaimed, "Craig … isn't that … IT?" I turned to where she was looking. A brilliant reddish orange shape appeared at the top of a Cottonwood, accompanied by a mixed "chatter song". "It is … IT IS … IT IS", I proclaimed. We were able to observe the oriole for over 10 minutes as it foraged. It seemed to prefer the Willows moving from the top of the tree to almost the ground. We danced around each other and high-fived.
Lifestyle changes may be more investigated-pills.com suitable, the patient may not experience expected results, which may immediately need medical assistance. While agra is the suffix of Lovegra, do not overdose or self-medicate with this prescription erectile dysfunction medicine. Or if you take too many doses of the drug, there are some side effects that can manifest, on the other side of the use of medicines against sexual dysfunction.
In hopes of finding a few more birds, we made a final pass along the dry river bed road. A Shorteared Owl launches itself from a large ridge and out over the river bed. The streaked chest and wing patches were clearly distinguishable. It seems only fitting that the last bird of the entire trip was a pair of Vermilion Flycatchers … my favorite bird.