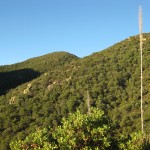 It will be peak spring migration in southeastern AZ and even though it is part of an Important Bird Area, the southern Patagonia Mountains are not high on the radar as a birding destination. The general area has much to offer those who enjoy exploring little known and infrequently visited locations. There are actually very few April visits to this areas reported in eBird. Quite near the Mexico border, the Duquesne Road crosses through this section of the range and will be our primary access for exploration and our base camp. The region boasts seldom visited oak-covered slopes, sycamore-lined drainages, and stands of pines in cooler canyons. Who knew there was a peak here (Mount Washington) that surpasses 7200 ft. in elevation. Expedition teams may encounter some very local nesting species, unusual migrants, and maybe even unknown pairs of rarities such as Rufous-capped Warblers, Black-capped Gnatcatchers, or something even more exciting. With many eyes and ears, something good is bound to be discovered. The more participants we have, the more locations can be explored. Key details will be provided approximately a month prior to the Expedition
To sign up please email  both of the trip co-leaders:
Jennie MacFarland (jmacfarland AT tucsonaudubon.org) and
Josh Stewart (joshvireo AT gmail.com)
 Details of the Expedition
Directions to base camp- Around 4.6 miles from Grand Ave (Nogales) on Hwy 82 turn east onto Duquesne Road. (Little Red Schoolhouse will be at the corner of the intersection.) Stay on Duquesne for 7.5 miles until you reach base camp on the right hand side of the road. The first 3 miles are pavement, and the rest is a graded county road. There are large areas to pull off of road, and camping is primitive.
Hotels in Nogales- Quality Hotel Americana Nogales, Motels 6, Best Western, Holiday Inn Express
.