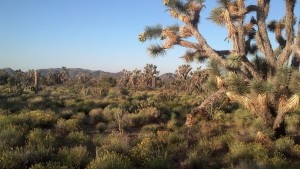 Global IBA for Bendire's Thrasher
Size: 213 square miles, 136450 acres
Identified: 04/2012 Global: 10/2014
Visiting the IBA: Located west of Wikieup, Arizona in Mohave County
Ownership: Bureau of Land Management, state trust lands, and private.
Site Description: This area is essentially unknown to birders and other wildlife viewers but consists of excellent habitat and a unique ecotone. As a gradient overlap zone where Sonoran Desert and Mohave Desert meet, there are many interesting mixes of plants such as Joshua Trees alongside Saguaros. This is also where three different Bird Conservation Regions meet, BCR 16, 33 and 34 and as a result all three are considered in this IBA.
Birds: This is a fascinating area where several ecological zones meet and overlap. The result is a habitat unlike any other in Arizona in terms of habitats and the unique mix of bird species associated with these habitats. Out of 78 bird species recorded during surveys in this proposed IBA, 10 are species of conservation status. The motivating factor for this area to be surveyed as an IBA was the presence of Bendire's Thrashers, a species of Global IBA status.
Species of special conservation status and interest that use the habitats within this IBA include: elf owl, Costa's hummingbird, gilded flicker, Gila woodpecker, Bendire's thrasher, Lucy's warbler, juniper titmouse, canyon towhee, and wintering Brewer's sparrow.
Breeding: The Joshua tree and juniper landscape provide significant habitat for Bendire's thrasher, and the IBA has global recognition for this species. Also breeding there are Cactus Wren, Ladder-backed Woodpecker, Ash-throated Flycatcher, Black-throated Sparrow, Scott's Oriole (associated with yucca) and Phainopepla (associated with mistletoe). Surveyors also encountered spring migrants such as: Western Tanager, Plumbeous Vireo, Wilson's Warbler, Virginia's Warbler, Bullock's Oriole and Lazuli Bunting.
Conservation Concerns: Erosion caused by off road vehicle recreation, grazing impacts and the possible construction of new paved roads.