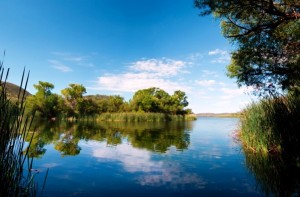 Counties: Santa Cruz
Site Status: Indentified 01/2007, Recognized 04/2007
Ownership: Arizona State Parks
Area: 5.5 square miles, 3,497 acres
Criteria:B1 (Potential): Continental: Species of Conservation Concern (Gray Hawk, Yellow-billed Cuckoo, Bell's Vireo, Northern Beardless-Tyrannulet, Lucy's Warbler, Abert's Towhee, Rufous-winged Sparrow, Varied Bunting.)
D1: State: Species of Conservation Concern
D4iv: State: Waterbirds Grebes & Cormorants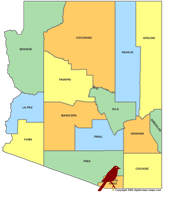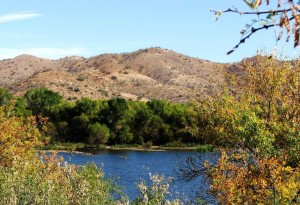 Site Description: General description of the site (habitat, location, prominent features, ownership, and any other helpful information): The Sonoita Creek State Natural Area/Patagonia Lake IBA includes approximately 11.3 km downstream below Patagonia Lake (State Natural Area, including some Arizona State Trust Land), Patagonia Lake (contained within Patagonia Lake State Park), and upstream of Patagonia Lake along Sonoita Creek approximately 2 km (all AZ State Trust Lands) eastward to the boundary with Circle Z Ranch. Sonoita Creek is boarded by lush broadleaf riparian vegetation (cottonwood, willow, ash, sycamore) with an upland terrace of mesquite bosque. The uplands of Sonoita Creek SNA are covered with high desert vegetation of mesquite, acacia, ocotillo, barrel cactus, and other smaller cactus and yucca. Coal Mine Springs within the uplands of Sonoita Creek SNA is an oasis of perennial water, ringed by mesic-riparian vegetation including cottonwood and Arizona ash, net-leaf hackberry, and wetland vegetation. Patagonia Lake and its wetland and riparian margins, comprised of cattails, bulrush, and willow, are also included within the IBA.
There are 26 recorded cultural resource sites located within the Natural Area that all have an Arizona State Museum Site Number associated with them. These sites range from a Hohokam field house to the historic New Mexico and Arizona railroad grade (1880's). The Sonoita Creek friend's organization is dedicated to the protection of Sonoita Creek and its watershed.
Ornithological Summary: This IBA has been identified because of its importance to riparian obligate avian species in southern Arizona. Most noteworthy are the regionally significant breeding populations of species of conservation concern (special status species), including: Gray Hawk (8 pairs), Western Yellow-billed Cuckoo (11-12 pairs), Bell's Vireo, Lucy's Warbler, Abert's Towhee, and Broad-billed Hummingbird. Yellow-breasted Chat nest in great abundance. Northern Beardless-Tyrannulet and Varied Bunting (both special status species), are also present with smaller breeding populations. Two very rare nesting raptor species in southern Arizona, the Common Black-Hawk (1 pair) and the Zone-tailed Hawk (1 pair) have regularly nested in the IBA. Golden Eagles, Red-tailed Hawks, Zone-tailed Hawks, and Northern Harriers (winter months) forage over the uplands of the IBA, while American Kestrels and Loggerhead Shrikes nest in abundance within this habitat. Sharp-shinned Hawks routinely over-winter in the riparian zone. This riparian oasis is also a migration hot-spot for foraging riparian dependent species, notably, Summer Tanager, Yellow Warbler, and Lucy's Warbler. A few rare species in Arizona, at the northern limits of their range distribution, also periodically occur along Sonoita Creek, including: Green Kingfisher (nesting), Black-capped Gnatcatcher (nesting), Elegant Trogon (over-wintering), and Rufous-backed Robin (over-wintering).
Patagonia Lake supports a significant wintering Waterbird concentration, which notably includes cormorants (Double-crested and Neotropical), grebes (Pied-billed and Eared), rails (Virginia's and Sora), and moorhens (Common), and some of these species breed at the lake as well, including Pied-billed Grebe, Virginia's Rail, and Common Moorhen. Around its margins Patagonia Lake contains rare and therefore important marsh habitat in southern Arizona, which in turn supports rare wintering species such as the Marsh Wren and Swamp Sparrow.
Also, using this marsh habitat year-round in very large numbers are nesting and wintering Red-winged Blackbirds, joined by substantial numbers of Brewer's and Yellow-headed blackbirds during the migration and winter periods. The Great Blue Heron is also particularly abundant along the lake's margin in winter, and nests nearby along Sonoita Creek. Least Bittern have been noted nesting at Patagonia Lake. One or two Bald Eagles are routinely present during the winter months, and occasionally the lake hosts individuals or small groups of birds that have strayed from the Pacific flyway, including more regularly the Common Loon and Brown Pelican. In addition, there are 22 animal species that have been given special status by the USFWS that potentially occur within the Natural Area. Non avian species include, Desert pupfish, Gila topminnow, Lesser long-nosed bat, Ocelot, Jaguar, Huachuca tiger salamander, Sonora chub, Huachuca springsnail, Chiricahua leopard frog, Desert sucker, Longfin dace, Speckled dace, Cave myotis, and Long-tongued bat.
Conservation Issues:The primary conservation issue for SCSNA is exotic species. These include non-native fish, crayfish, bullfrogs and livestock (cattle). Overgrazing, especially in the riparian area is one of the biggest issues. The steps that are being taken to remedy the overgrazing issue is to complete perimeter fencing of the Natural Area. The perimeter fencing is approximately 30 % completed with an approximate completion date of May 2007. The greatest need for restoration of SCSNA is the completion of perimeter fencing to reduce/eliminate the cattle grazing within SCSNA. In addition, there are plans, working with AG&F, to eliminate/reduce the number of exotic species in the creek.