Location: 349435 N  12 621331 E UTM NAD27
County: Cochise
Site Status: Identified 06/2008, Global Identified 10/2011
Ownership: Arizona Game and Fish
Area: 2.4 square miles, 1,509 acres
Criteria: D1 – Site Important to Special Status Avian Species – Bendire's Thrasher, Long-billed Curlew, Scaled Quail and Cassin's Sparrow
D4vi – Significant Concentrations of Birds – Cranes (2000+)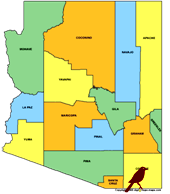 Site Description: The Whitewater Draw Wildlife Area lies within the Chihuahuan desert grassland habitat type. Past land uses of the property included farming and ranching with about 30% of the property being irrigated farmland. Much of this is being returned to native grasslands through rest and active reseeding projects. Another 50-acre portion will be managed under a cooperatively developed project to install moist soil cells, which may be flooded throughout the winter months. The next largest portion of the Wildlife Area is comprised of native grasslands, most of which is being rehabilitated as well. Over 600 acres of the area is intermittently flooded wetland with two small patches of riparian habitat. The surrounding agricultural community of the valley enhances feeding opportunities for such species as sandhill cranes, doves, Mexican ducks, mallards, pintails, collared peccary and mule deer. The wetland and grassland communities on the wildlife area provide feeding and loafing sites for sandhill cranes, waterfowl, and doves, in addition to numerous other terrestrial game and nongame species including plains leopard frogs, one of the most narrowly distributed of all Arizona leopard frogs. Whitewater Draw Wildlife Area's leopard frog population is the healthiest and most stable of the known Arizona plains leopard frog populations.
Management Objective Goals
The goals for management of the Whitewater Draw Wildlife Area are to:
1) To conserve and enhance sensitive wetland, grassland, and riparian habitat values associated with the Whitewater Draw Property and associated habitat for conservation and management of waterfowl, migratory game birds and nongame birds, native amphibians, and reptiles.
2) To provide public access, for hunting and watchable wildlife oriented recreational activities, which is consistent with management of the wildlife resource values to provide opportunities for appropriate wildlife, oriented public education and research.
3) To provide additional and alternative roosting, feeding, and resting areas for migratory birds, especially waterfowl and sandhill cranes, beyond those currently available in the area.
4) To maintain water rights and water quality and abundance associated with the property, both surface and subterranean.
Ornithological Importance: This Arizona Game and Fish Wildlife Area is of state and regional significance as the primary wintering area for Sandhill Cranes (Grus canadensis) in Arizona, and includes both the Lesser (most numerous) and Greater subspecies.  Whitewater Draw is in the southern Sulphur Springs Valley and cranes are coming from both the Rocky Mountain population and Mid-Continental population.  The area also supports wintering Snow Geese (80-200) and a few Ross's Geese (occasional to 40).  Counts of Sandhill Cranes in early January have steadily climbed from 4,000 in 1991 to over 22,000 in 2008 at Whitewater Draw, with another 13,000 present 36 miles north in the Willcox Playa area, and another 600 present in the far north of Sulphur Springs Valley at Bonita, AZ, and 400 present in the Safford Valley near Duncan.  The Greater subspecies breeds in the northern states of the continental U.S., and the Lesser subspecies, breeds from Alaska and eastern Siberia. 
Two other species of conservation status occur in the winter and migration periods at Whitewater Draw, but no quantitative surveys for these species have occurred, they include:  Mountain Plover (winter), rare, 0 to 40 individuals occasionally (IUCN: Vulnerable, Audubon/ABC WatchList 07- Red) and Long-billed Curlew (spring & fall migration), "teens" to 40+ birds, (IUCN: Near Threatened, Audubon/ABC WatchList 07- Yellow).  Many species of relatively small populations (in Arizona in the winter) also are known to occur regularly at the Wildlife Area in small numbers, they include Bald Eagle (1-2), Golden Eagle (1-2), Ferruginous Hawk (1-5), Prairie Falcon (1-2), and occasionally Peregrine and Merlin (all of these species are of "conservation status" in AZ, except Merlin).  Sulphur Springs Valley, a raptor hotspot in the winter (including for owls), brings numerous raptor species into Whitewater Draw, they include (in approximate relative abundance) Red-tailed Hawk, Northern Harrier, Barn Owl (+30 on site 2008), Cooper's Hawk, American Kestrel, Ferruginous Hawk, Great Horned Owl, Bald Eagle, and Golden Eagle.  The diversity of waterfowl present in winter at the Wildlife Area, is also noteworthy, including Northern Shoveler, Green-winged Teal, Mallard, American Wigeon, Northern Pintail, Cinnamon Teal, Blue-winged Teal, Gadwall, Mexican Duck, Ring-necked Duck, Lesser Scaup, and Canada Goose, and rarely White-fronted Goose.  Summer nesting species, when conditions are favorable include:  Mexican Ducks (subspecies diazi), Black-necked Stilt, American Avocet, Pied-billed Grebes, and Cinnamon Teal.  Both the Sora and Virginia's Rail are present in migration, and may breed.  Swallows, Tree and Violet-green, occur in large numbers in migration.  Blackbirds, Yellow-headed and Red-winged, occur in very large numbers (in the hundreds) in the winter.  Grassland habitat of Whitewater Draw (mostly non-native dominated) hosts breeding Scaled Quail (Nat. PIF WatchList 2004, Audubon/ABC WatchList 07- Yellow), and small numbers (probably < 5 pairs) of Bendire's Thrasher (IUCN: Vulnerable, Audubon/ABC WatchList 07- Red), and Cassin's Sparrow (AZ PIF Priority 1999). 
Conservation Issues: The most serious conservation issue is climate change induced increased drought and the loss (or diminishment) of a seasonal winter flooded wetland.  This is a global issue, and of particular high threat to the inter-mountain west region of North America.  The threat of oil, gas, and mineral extraction remains because of private ownership, but this threat is likely low.