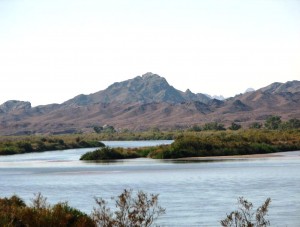 Continental IBA for Yuma Clapper Rail
Size: 22.8 square miles, 14,578 acres
Identified: 06/2008
Visiting the IBA: From Blythe, go approximately 3 miles west on I-10 to Neighbours Boulevard/78 exit. Go south on Neighbours for 12 milesto the Cibola Bridge. After crossing the bridge, continue south for 3.5 miles to headquarters.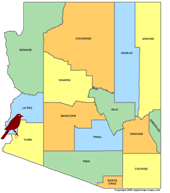 Site Description: Cibola NWR is located in the floodplain of the lower Colorado River surrounded by a fringe of desert ridges and washes. The refuge encompasses both the historic Colorado River channel as well as a channelized portion constructed in the late 1960's. Along with these main water bodies, several important backwaters are home to many wildlife species that reside in this portion of the Sonoran Desert. Because of the river's life sustaining water, wildlife at the refuge survives in an environment that reaches 120 degrees in the summer and receives an average of only 2 inches of rain per year. Cibola Lake is closed in the winter to provide a safe, undisturbed roosting area for wintering waterfowl and other wildlife.
Birds: The largest portion of the lower Colorado River population of greater Sandhill Cranes winter on this refuge.
Year-round: American Kestrel, Gamble's Quail, Clark's Grebe, Western Grebe, Pied-billed Grebe, Cattle Egret, Snowy Egret, Great Egret, Great Blue Heron, Black-crowned Night Heron, American Bittern, Greater Yellowlegs, Burrowing Owl, Abert's Towhee, Red-winged Blackbird, and Killdeer.
Breeding: Yuma Clapper Rail, Least Bittern, Western Kingbird, Lucy's Warbler, Yellow Warbler, Bell's Vireo, Blue Grosbeak, Yellow-breasted Chat, Lesser Nighthawk and Black-necked Stilt.
Migration: White-fronted Goose (mid to late September), White-faced Ibis, American Avocet, Black Terns, Dowitchers, Long-billed Curlew, Wilson's Phalarope, Western Sandpiper, Marbled Godwit, Lesser Yellowlegs, Willet, and Wilson's Warbler.
Winter: Sandhill Crane, Canada Goose, Snow Goose, Ross' Goose, Mallard, Northern Pintail, American Widgeon, Ring-necked Duck, Ruddy Duck, Northern Shoveler, Blue-winged Teal, Green-winged Teal, Cinnamon Teal, Bald Eagles, Golden Eagles, Peregrine Falcons, Northern Harrier, Wilson's Snipe, and Belted Kingfisher.
eBird priority species: Abert's Towhee, Lucy's Warbler, Yellow Warbler, and Bell's Vireo.
Conservation Concerns: Saltcedar encroachment has consumed thousands of acres in upland and riparian areas. Restored sites contain mixed stands of Fremont cottonwoods, willows, and mesquites.
Maps of this Important Bird Area:
State of the IBAs 2014 Baseline – More Technical info about the status of this Important Bird Area
National Audubon Profile Page for Cibola National Wildlife Refuge IBA
Complete eBird.org Checklist of birds Reported for Cibola National Wildlife Refuge IBA
For an interactive map and habitat and land ownership analysis of this IBA visit the National Audubon IBA Map and select "Arizona" and then the name of this Important Bird Area. To access analysis graphs, click on the map boundary of the IBA.
Location: 33.18'N, -114. 41'W
County: La Paz
Site Status: Identified 06/2008
Ownership: Federal
Criteria: B1; Continental; Species of Conservation Concern – Yuma Clapper Rail 82 breeding pairs – 2005
D4i – Significant Concentrations of Birds, >1% State population (Waterfowl 2000+)
D5 – Sites supporting long-term research and /or monitoring with publication of research, e.g. Western Birds, Journal of Field Ornithology, Southwestern Naturalist, Condor, etc.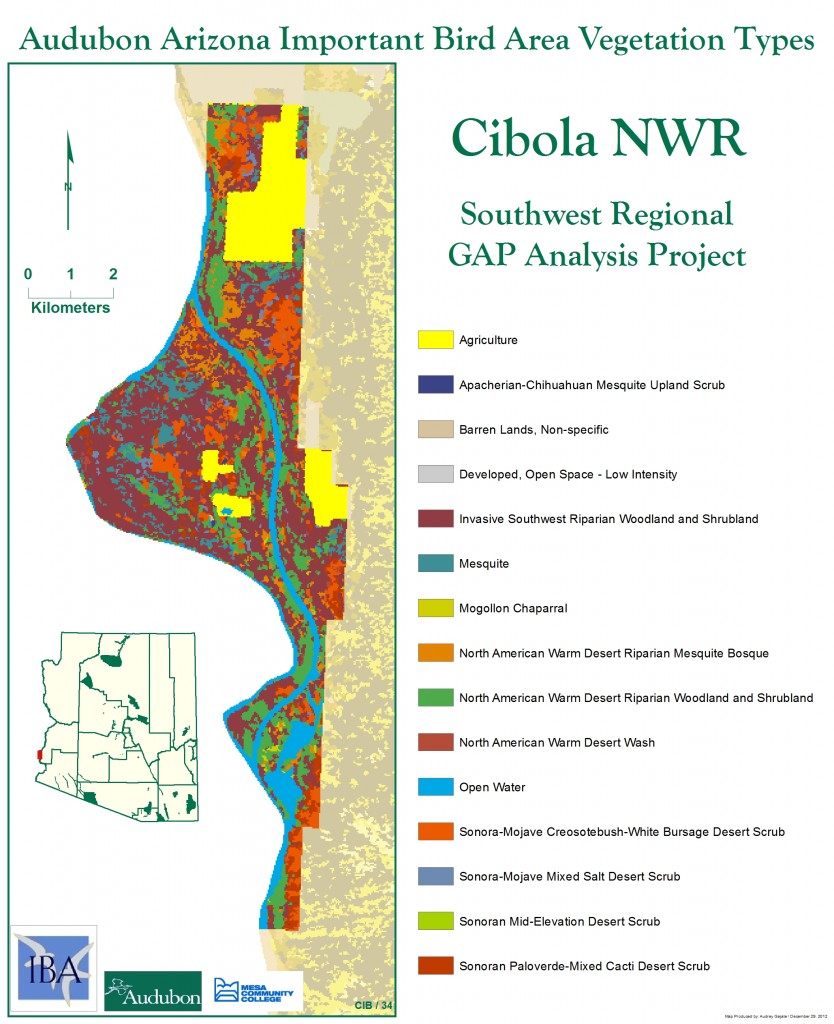 | | |
| --- | --- |
| Vegetation Description | Hectares |
| ARROWEED – SCRUB COMMUNITIES | 57.87111 |
| CREOSOTEBUSH – BURSAGE (LOWER COLORADO R. VALLEY) COMMUNITIES | 39267.27 |
| LARREA DIVARIACATA ASSOCIATIONS | 847.2149 |
| MESQUITE BOSQUE COMMUNITIES | 1712.098 |
| MIXED PALOVERDE – CACTI COMMUNITIES | 79746.73 |
| REED COMMUNITES | 440.4883 |
| RIVER | 34.23674 |
| TAMARIX DISCLIMAX COMMUNITIES | 5347.083 |
Ornithological Summary: From late October through February, the farm fields are full of Canada, Snow, and Ross' geese. Mid-late September is the best time to see white-fronted geese as they are passing through on migration– occasionally several will winter on the refuge. The largest portion of the lower Colorado River population of greater Sandhill Cranes winter on the refuge as well as thousands of ducks including mallard, northern pintail, American Widgeon, Ring-necked Duck, Ruddy Duck, Northern Shoveler, Blue-winged Teal, Green-winged Teal, and Cinnamon Teal. Clark's, Western, and Pied-billed grebes are also present. Other wintering birds include Bald Eagles and Golden Eagles in the farm fields and occasional Peregrine Falcons. American Kestrels, Northern Harriers, and Prairie Falcons are common. Kestrels are present year-round and nest in the artificial nest boxes. Hart Mine is an attractive roost to waterfowl, herons, and egrets. Yuma Clapper Rails nest in the marsh as well as in Cibola Lake. Least Bitterns are commonly seen in the marsh and in Cibola Lake. The Island Unit is a restored historic river meander with some farm fields, and moist soil units where waterfowl and shorebirds congregate. Some of the birds seen here include White-faced Ibis, American Avocet, Black Terns, Dowitchers, Killdeer, Black-necked Stilts, sandpipers, Cattle – Snowy – Great Egrets, Great Blue and Black-crowned Night Herons, American Bitterns, Yellowlegs, and Wilson's Snipe.
Canada Geese: The population of geese wintering at Cibola National Wildlife Refuge (CNWR) along the lower Colorado River originate mainly from northwestern and southwestern Wyoming (50-%), Utah (30%), and southern Alberta (10%) The number of wintering geese at CNWR has been declining for a decade. Reduction in overall numbers may be affected by geese wintering further north or shifting wintering grounds, poor reproduction due to drought conditions on the breeding grounds, and/or by impacts from early season hunting (Anderson and Vasquez.2005). The most common geese found at CNWR (following the American Ornithologists' Union's descriptions -Banks et al 2005) are large white-cheeked geese referred to as Branta Canadensis and small white-cheeked geese, Branta hutchinsi. The following 4 taxa of large white-cheeked geese accounted for about 90% of the birds wintering at CNWR from 1990-1996. Western Plains Goose (about 9% of the wintering mixture), Yellowstone Goose (12% of the wintering population), Green River Goose ( 40%) and Bonneville Basin Goose (distinctly barred on the back and lateral to the neck., no other bird at CNWR is so marked). The Aspen Parkland Goose, Snake River Plains Goose, Wyoming Basin Goose and Mahogany-backed Goose all occur in small numbers at CNWR (Anderson and Vasquez.2005).
Among 4296 geese examined at CNWR only 51 (1.2%) were Arctic geese (Branta hutchinsi). However small this total may be, CNWR is probably a major wintering area for one of the arctic geese at CNWR, namely the blue-grey arctic goose (Anderson and Vasquez.2005).
The wintering goose flock at CNWR reached peak numbers of about 24,000 birds in 1988. The peak number since 1991 was about 23,000 birds in early December 1994. Since then the population trend has fallen to 6000 or fewer birds (Anderson and Vasquez.2005).
Greater Sandhill Crane: Sandhill Crane (Grus canadensis tabida) consist of about 65,000 to 75,000 cranes split between 5 populations. The Greater Sandhill Crane (G. c. tabida) population that winters along the LCRV is the smallest and Northern Nevada is the primary nesting area for the 1800-2000 bird population. Most birds are thought to nest in Elko and White Pine Counties, Nevada. Cranes that nest in northwest Utah and on the Duck Valley Indian Reservation are probably LCRVP birds. Historically, Sandhill Cranes wintered further south in the region of Santa Clara Slough and the Colorado River delta in Mexico. Currently the Cibola NWR and the Colorado River Indian Tribe (CRIT) are the primary wintering locations for this population. Anywhere from 700-2000 cranes will be at these two locations between October 15 and February 15 of each year. Management Plan objectives include increasing the population to 2400-2600 birds. In recent years the population has had one of the lowest recruitment rates of any sandhill crane population in North America.
Riparian Species: As part of a year round avian monitoring program along the lower Colorado River (LCR), the Bureau of Reclamation (Reclamation) initiated a winter season constant-effort mist netting project in the winter of 2002-03 at two demonstration restoration sites, Cibola Nature Trail Site (CIBO) at the Cibola National Wildlife Refuge in Arizona (Calvert,2007). Area searches are conducted at the site during each of the 6 banding periods to account for species that may not be captured during standard mist-net operations. A standard area search protocol is followed (Ralph et al. 1993).
Banding operations were conducted for a total of 673.83 net hours during the winter of 2005-06. There were 293 individual birds captured (0.43 per net hour), and 64 recaptures (0.1 per net hour), for a total of 357 birds captured. Twenty-six species were captured, with 4 species accounting for 76% of all captures: Audubon's Warbler (Dendroica coronata audoboni) 33%, Orange-crowned Warbler (Vermivora celata) 24%, Ruby-crowned kinglet (Regulus calendula) 10%, and Lincoln's Sparrow (Melospiza lincolnii) 9% (Calvert,2007). The following figures from Calvert.2007.
Conseration Issues: Saltcedar (Tamarix chinensis) encroachment has consumed thousands of acres in upland and riparian areas. Restoration efforts have focused on removal, revegetation, and maintenance of cleared areas. Restored sites contain heterogeneous stands of Fremont cottonwoods (Populus fremontii), willows (Salix gooddingii), and mesquites (Prosopis spp.)